Product detail web site is from here. (https://https://moldefeat.com/en/)
Formaldehyde removal coat, Moldefeat S-3T is absorbed formaldehyde gas, acetaldehyde gas and several include aldehyde substance gas and remove them. S-3T is one of the measures against sick house syndrome and deodorizes burning and smell of tobacco.
Character
> Elimination for gas of formaldehyde and acetaldehyde
> Easy to handle
> Water based fluid
Appearance
Pale yellow
Fluid type
Water based
Main component
Aldehyde depleting agent
Dry temperature
At room temperature
Dry out time
Over 24 hours (Atmosphere 20degC)
Application method
Roller, Brush,
Spray gun
Spread quantities
15 - 25 g / 1 sq m
Appearance of dry out
Transparent
Antibacterial effect
> Room wall, ceiling
> Inside article of furniture and bedframe
> commodity produced for wall paper, furniture and room interior of each products.
Bottle label
Bottle type
4L
(Option)
10L
(Option)
20L
Product type
Gas type
S-1
S-2
S-3T
Ammonia
O
O
X
Acetic acid
O
O
X
Acetaldehyde
O
O
O
Formaldehyde
O
Δ
O
Hydrogen sulfide
O
Δ
X
Trimethyl-amine
O
O
X
methyl mercaptan
O
O
X
Isovaleric acid
Δ
O
X
Indole
Δ
O
X
Note:
O:Good, Δ: Weak, X: Non
2. Formaldehyde removal effect for acetaldehyde (CH3CHO)
(1) basic odor eliminating effect.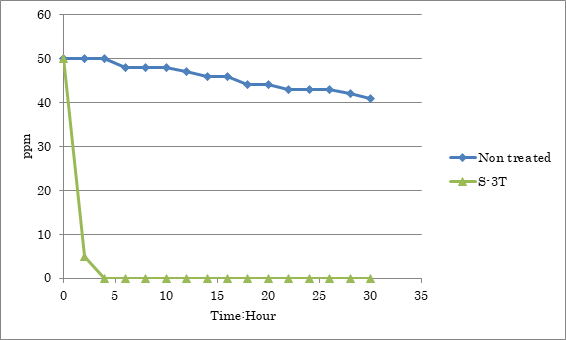 (2) Repeat test